Opportunity Zones
The Opportunity Zones program was established by the Tax Cuts and Jobs Act of 2017 to encourage long-term investments in low-income urban and rural communities nationwide. It provides a tax incentive for investors to re-invest their unrealized capital gains into Opportunity Funds.
I made a series of maps that focused on Census Tract data with both high-need and high-opportunity locations, factoring in metrics like unemployment and commercial land density. My team - along with extensive input from the public - provided recommendations for 25 Census Tracts to the Mayor, and then to the U.S. Treasury for certification. | Press Release | Online Map
Official DMPED Map
Utilizing the Common Owner polygon layer, I created the DMPED Real Estate polygons (blue) in ArcMap Desktop. This map - plotted on 42"x60" paper - is currently displayed in four offices and conference rooms in the John A. Wilson building.
Layers: Real Estate Project Portfolio (Polygons) from the Office of the Deputy Mayor for Planning and Economic Development; Affordable Housing Projects; Great Streets Corridors and Small Business Grantees; Metro Lines and Stops; Ward Boundaries.
Transit-Shed Maps for Potential Amazon HQ2 Sites
I stylized maps from the Office of Planning's transit-shed geodatabase to align with the color palettes and designs of DC's official for Amazon's second Headquarters | They are located on the #ObviouslyDC website.
Tech Lady Hackathon #5
I made these 12" x 18" posters for our 2017 Tech Lady Hackathon leaders and volunteers.
Layers: DC Boundary, DC Metro-Area Roads, Washington Post (location of TLH #5)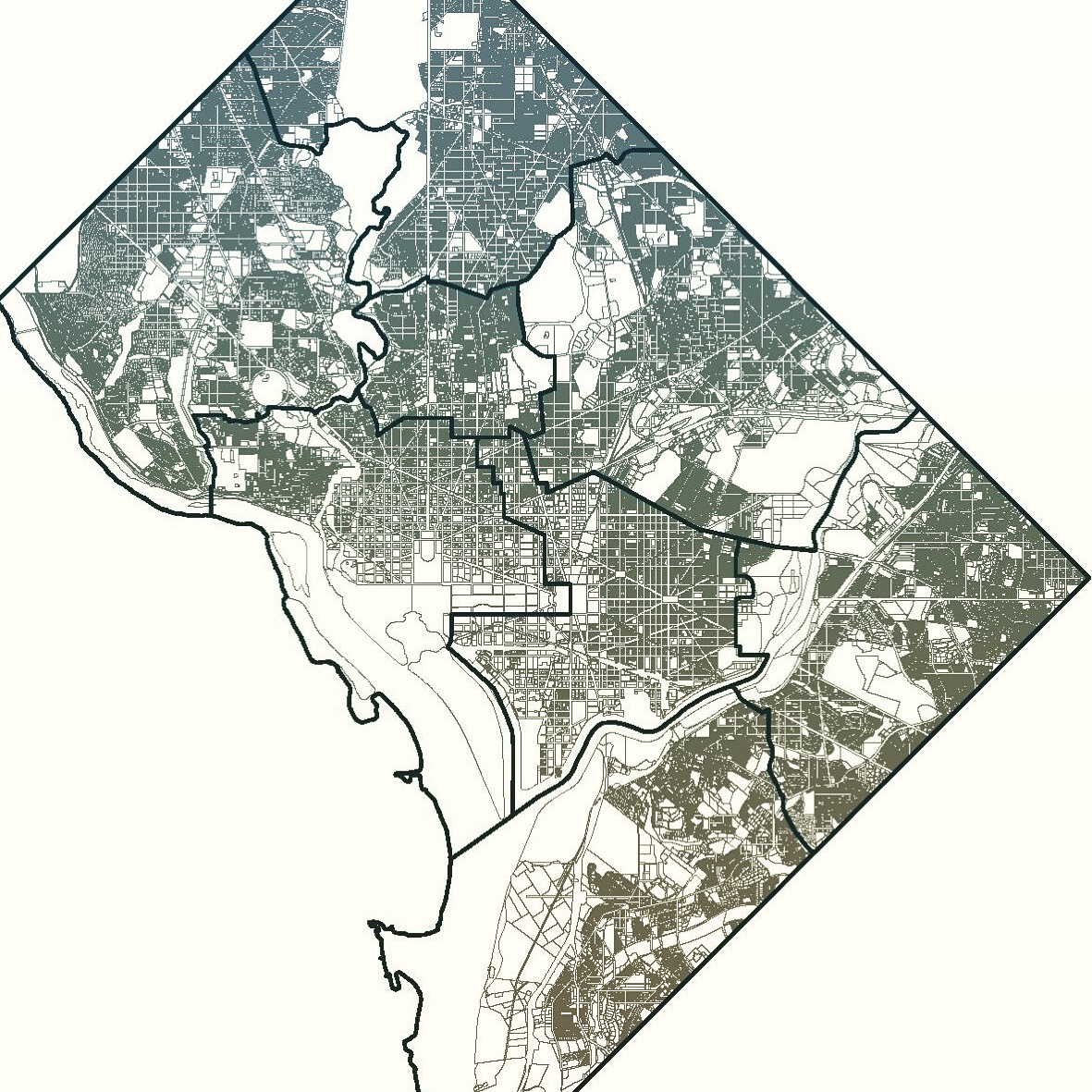 Owner Polygons
Common Owner Polygon Lots; Ward Boundaries; no basemap
Projects Along DC's Waterways
The Fire and EMS Department wanted to assess real estate projects near DC's major waterways, so I used the "buffer" geoprocessing tool in ArcMap Desktop to create a layer for DC Government projects that fell within a 1/2 mile of the Anacostia and Potomac rivers. Utilizing the Common Owner polygon layer, I created the DMPED Real Estate polygons in ArcMap Desktop.
Vehicular Crash Data
2017 Crashes in DC; Dark Gray Canvas